Accelerating Entrepreneurship by Strengthening E-commerce Linkages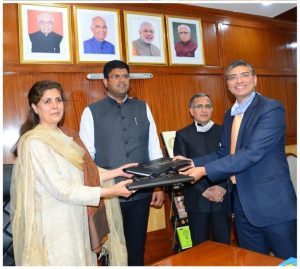 In a bid to give a boost to micro, small and medium enterprises (MSMEs) and artisans in the state, the Directorate of MSME, under the guidance of Hon'ble Chief Minister, Shri Manohar Lal, signed a Memorandum of Understanding (MoU) with leading national and international e-commerce players today.
The Government of Haryana is collaborating with eBay, Power2SME and TradeIndia to increase the online footprints of MSMEs from Haryana and enhance MSMEs' exports contributionby extending handholding and facilitation support at ground-level.
An MoU was signed between the Directorate and e-commerce partners in the presence of Shri Dushyant Chautala, Hon'ble Deputy Chief Minister on 11th February 2021 in Chandigarh.
As part of the new collaboration, the e-commerce giants will conduct trainings and workshops across districts of Haryana to sensitize MSMEs on the benefits of e-commerce and provide handholding support to list their products online. Further, e-commerce partners have curated special customized packages for Haryana sellers to give impetus to the state government's efforts. Thousands of micro and small enterprises, artisans across Haryana are expected to benefit from the collaboration between Government of Haryana and e-commerce partners.