MoU signing between Government of Haryana and Haqdarshak Empowerment Solutions Private Limited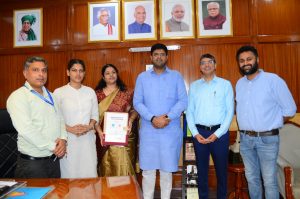 MoU signing between Government of Haryana and Haqdarshak Empowerment Solutions Private Limited 04th August 2021, Haryana at 11.15 am
The Government of Haryana, under the guidance of Hon'ble Chief Minister, Sh.Manohar Lal, is collaborating with Haqdarshak Empowerment Solutions Private Limited (HESPL) for empowering micro entrepreneurship in the state. In this regard, an Memorandum of Understanding (MoU) was signed today between the Directorate of MSME, Government of Haryana and HESPL in the presence of Hon'ble Deputy Chief Minister, Sh. Dushyant Chautala.
With an objective of fostering a vibrant MSME ecosystem in the state, the MoU will engage HESPL in supporting MSMEs to formalize themselves and benefit from incentives and schemes available to them. The Government of Haryana has been focusing on building an entrepreneurship-focused ecosystem through policy advocacy, formulating support mechanism, field level hand holding support and robust grievance redressal mechanism so that MSMEs are enabled to grow and overcome their challenges.
Haryana has a thriving ecosystem of over 2,00,000 MSMEs and the state government is committed to making the MSME ecosystem more vibrant. The Directorate of MSME is taking proactive measures to address the challenges being faced by MSMEs, to help them realize their full potential.
HESPL ensures citizens and small businesses at the last mile get access to government and private welfare and schemes and services. Over the last five
years, HESPL pan India has reached out to more than 1 million families and supported 600K+ beneficiaries with welfare schemes, while channelizing INR 500 Cr (USD $67 million) in benefits value.
As a part of this collaboration, in the pilot phase HESPL will work with more than 5000 MSMEs in 3 pilot districts to make welfare schemes more accessible to MSMEs and help them discover, apply for and benefit from various government schemes. HESPL will also support aspiring entrepreneurs to establish new businesses with adequate support from the State Government. The collaboration will enhance micro enterprises' capabilities and capacities and further strengthen the MSME ecosystem in Haryana.