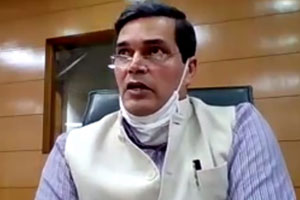 MSME conclave via video -conference under the chairmanship of W/ Principal Secretary, Industries & Commerce conducted on 11th June, 2020; organised by PHD Chambers of Commerce & Industry.
MSME Conclave was held on 11th June 2020 under the chairmanship of W/Principal Secretary, Industries & Commerce Haryana, organised by the PHD Chambers of Commerce & Industry via video conferencing. The conference was arranged to provide information on various government and funding schemes for micro, small and medium-sized enterprises during the duration of the COVID-19 pandemic.
The plenary session had eminent speakers from the MSME industry who spoke about the benefits and incentives for the MSMEs under the Government of India and Haryana schemes. The welcome address for the conference was done by Mr. Mohit Jain, Chairman, Haryana State Chapter, PHDCCI on the challenges and issues faced by MSMEs during the pandemic and how the government schemes are aimed at addressing the same.
This was followed by Mr Rahul Priyadarshi, GM, SIDBI informing the audience about mortgage free loans under its 'SAFE' & 'SAFE Plus' schemes to MSMEs involved or diversifying into production of essential goods to tackle the current pandemic, at a subsidized interest rate of 5%. He also mentioned that SIDBI has provisioned for an expedited 48-hour approval of the online applications received under these schemes and has waived off any loan processing fees with the objective of providing hassle-free financing assistance to MSMEs.
Esteemed Representatives from MSME DI Karnal and Industries & Commerce Department Haryana highlighted and informed the participants about the schemes and incentives to be provided to the MSMEs during the pandemic –
Government of India Initiatives
Emergency Credit Line Guarantee Scheme: INR Three Lakh Crore Collateral Free Automatic Loans for Business including MSMEs
Broadened Scope of MSME Definition

| Definition Criterion | Micro | Small | Medium |
| --- | --- | --- | --- |
| Investment Limit | 1 Crore | 10 Crore | 50 Crore |
| Turnover Limit | 5 Crore | 50 Crore | 250 Crore |

INR 50,000 crores equity infusion for growing MSMEs
INR 20,000 crores Subordinate Debt for Stressed MSMEs

Government of Haryana Initiatives-

Electricity Fixed Charges Waive off: Fixed charges have been waived for the months of March and April subject to a ceiling of Rs. 10,000/- for consumers having fixed charges up to Rs. 40,000/- per month.
Haryana MSME Revival Interest Benefit Scheme: 100% interest benefit (maximum 8%) on term/ working capital loans availed for payment of wages and/or other expenses up-to a maximum of INR 20,000 per employee.
Waiver of rent on buildings and shops belonging to Government, Panchayati Raj Institutions and Urban Local Bodies.
A fully functional COVID-19 helpdesk established at HEPC (Helpline No. 1800-180-2132)
Extension of deferment in payment of all outstanding dues as on March 15, 2020 and thereafter towards all Departments, Boards, Corporations and Authorities till May 15, 2020.
The state govt. proactively enabled 5 N-95 MSME manufacturers and 88 PPE coverall MSME manufacturers of the state obtain approval from GoI approved labs like DRDO, OFB and SITRA etc.
The state govt. has urged various banks to provide hassle free loans for liquidity infusion in the state's MSME sector.
With the objective of avoiding mass migration of immigrant labour, State govt. has created several shelters providing lodging facilities to labour.
The session concluded with Addresses from Guest of Honour Mr. Vikas Gupta, IAS, Director General, MSME, Haryana and Chief Guest Mr. A K Singh, IAS, Principal Secretary, Industries and Commerce, Haryana