Program launched by Government of Haryana and Walmart Vriddhi for inclusion of Haryana MSMEs in the domestic and global supply chains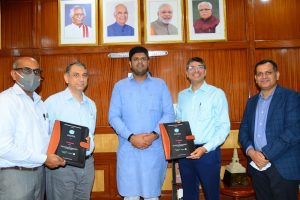 Program launched by Government of Haryana and Walmart Vriddhi for inclusion of Haryana MSMEs in the domestic and global supply chains
04th August 2021, Haryana at 11.15 am
As the Global Supply Chain is being reconfigured, India is fast emerging as the next destination of choice. By providing institutional support, to holistically promote Micro, Small and Medium Enterprises' (MSME) growth, and enhance their competitiveness, MSMEs can be further integrated to domestic, as well as international supply chains. With the objective to help equip the MSMEs to get access to newer markets, the Government of Haryana is collaborating with Walmart and Flipkart to support MSMEs to grow their domestic and global markets through the Walmart Vriddhi Supplier Development Program (Walmart Vriddhi).
The first Walmart Vriddhi e-Institute was launched in Haryana in October 2020, in the presence of the Hon'ble Chief Minister of Haryana, Shri Manohar Lal Khattar, with the objective to provide a digitally enhanced learning experience through online modules with personalized feedback & one-on-one advisory sessions, and empower 50,000 MSMEs by 2025.
In this regard, an MoU was signed today between the Directorate of MSME, Government of Haryana and Swasti, the implementing agency of Walmart Vriddhi
program, in the presence of Shri Dushyant Chautala, Hon'ble Deputy Chief Minister, Government of Haryana. As part of this new collaboration, Walmart
Vriddhi shall provide MSMEs from Haryana training and support free of cost, through a blended learning approach, while also providing opportunities to join online, offline and export channels and reach pan-India and global marketplaces as part of the supply chains of Walmart, Flipkart and other leading companies.
Trainings, seminars, and workshops will also be organized for Haryana MSMEs so that they can access information and enrol in the program. It is envisaged that the collaboration shall not only help empower hundreds and thousands of micro and small enterprises, artisans across Haryana, building on their domestic & export capabilities, but also reinforce their inclusion in the domestic and global supply chain.