Video- Conference on PMEGP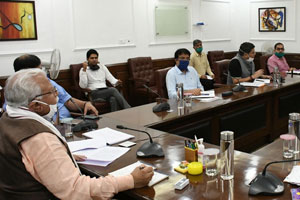 Hon'ble CM, Haryana conducted a video conference on Prime Minister's Employment Generation Programme (PMEGP) with the program's beneficiaries in Haryana on 7th July,2020
The PMEGP programme has enabled micro-enterprises across categories ranging from electronics repairs, wood works, paper products, readymade garments, welding works etc. The Hon'ble CM appreciated the efforts of such entrepreneurs who have shown immense initiative in starting their own enterprises and becoming job providers rather than jobseekers.
The PMEGP scheme was introduced by the government of India in 2008 via merging two earlier schemes namely Prime Minister's Rojgar Yojna and Rural Employment Generation Programme. The programme aims at promoting entrepreneurship through micro-enterprise establishments in the non-farm sector via providing assistance in the form of credit-linked subsidy to unemployed youth & traditional artisans.
The scheme provisions for eligible subsidy of 25% of the project cost in rural areas and 15% in urban areas for the general category; and 35% of the project cost in rural areas and 25% in urban areas for the special category.
It was informed that in Haryana KVIC, KVIB & DICs together have been able to overachieve their targets of margin money disbursal under the scheme for FY'18 & FY'19 (116% in FY'18, 104% in FY'19).